Amr
Nagaty

MSc Candidate

Email: amr.nagaty_at_unb_dot_ca

Research Interests:

Modeling and

control of unmanned aerial vehicles

,

state estimation

,

nonlinear control and vision based navigation.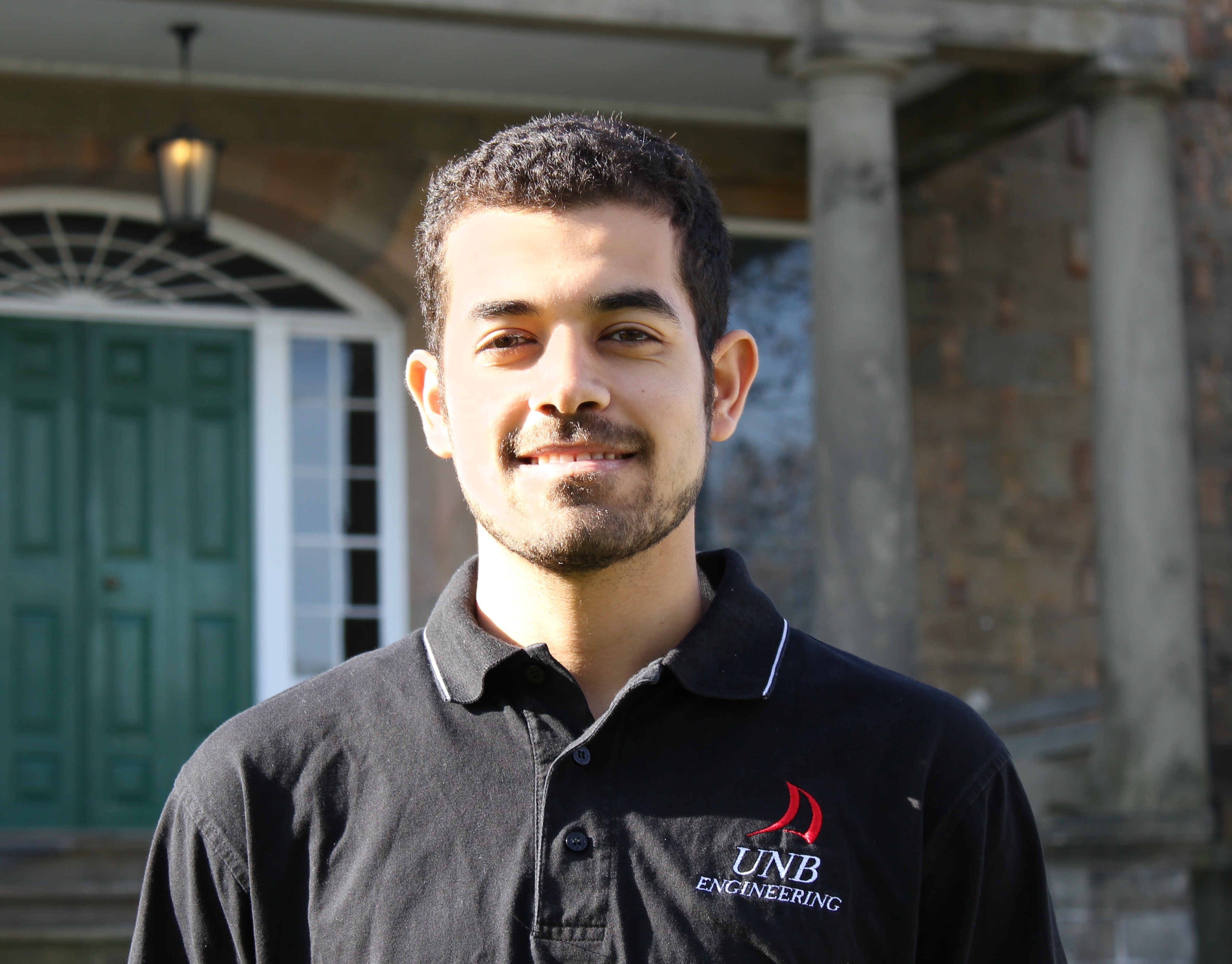 Current Projects
- Modeling and system identification of a quadrotor platform.
- Nonlinear control of an autonomous quadrotor.
- Automatic target recognition and geo-localization using a fixed wing aircraft.
- UAV competition hosted by Unmanned Systems Canada.
Past Projects
- Modeling of a helicopter rotor equipped with trailing edge flaps for active rotor stabilization.
- Construction of a quadrotor to be used as a research platform.
Educational Background
I received my B.Sc. degree in Mechatronics Engineering from the German University in Cairo (GUC) in 2011. I joined the M.Sc. Electrical Engineering program at the University of New Brunswick (UNB) on the same year. Also, I joined the Collaboration Based Robotics and Automation (COBRA) research group led by Dr. Howard Li.
Teaching Experience
- At UNB, I am lab and marking assistant for "Electricity and Magnetism" course.
- At GUC, I was a lab assistant for "Mechatronics Engineering" course.
---
Nagaty is part of the University of New Brunswick's COBRA team (COllaboration Based Robotics and Automation), a group which has been making huge leaps forward in the field of unmanned vehicles since its founding in 2009.
Nagaty's work in the group focuses on mathematical modeling and control of unmanned air vehicles (UAVs).
"My work is mainly on the modeling and control of aircrafts," Nagaty said. "What I do is represent each aircraft mathematically. Given the inputs to the aircraft, we can predict its position and its orientation – how it's tilting in the space. That way, we can control it and stabilize it to make sure that it has a stable flight over its mission."
Nagaty, a Master's candidate, fits right in with his colleagues in COBRA. Other members include Carl Thibault, who researches unmanned air vehicles; Sajad Saeedi, who works on simultaneous localization and mapping (SLAM); Liam Paull, who works on underwater autonomous vehicles; Arnaldo Sepulveda, who researches control systems; and, Mostafa Shad, whose research focuses on water heaters.
"My favourite thing about COBRA is certainly the team," Nagaty said. "They are all interesting people – very friendly and very helpful. Each one is really competent in his field and work."
Before coming to the University of New Brunswick in September 2011, Nagaty received a Bachelor of Science in Mechatronics at the German University in Cairo, Egypt, which is also his hometown. Nagaty completed his undergraduate project at Stuttgart University's Institute of Flight Mechanics and Control in Germany. While completing his undergraduate project, Nagaty worked on a project supervised by helicopter manufacturing company Eurocopter Deutschland GmbH.
"It was during my bachelor project where I first started working on modeling and control of helicopters," Nagaty explained. "Working for Eurocopter Deutschland also got me really interested in the field of modeling and control of aircrafts."
A research supervisor in Egypt first told Nagaty about the COBRA team and the work that they were doing. Nagaty began contacting COBRA leader Dr. Howard Li; the two found mutual interest. Nagaty and his younger brother both moved to Fredericton to study at the University of New Brunswick in August 2011.
"I miss the nice weather and the sun," Nagaty said about what he misses most about Egypt. "But here, people are more competent in their work and bigger research projects are here at UNB, so there's a better chance of progressing in the field."
Right now, Nagaty's plan is to complete his Master's degree and pursue a PhD, also at the University of New Brunswick.
"I like what I'm doing now, so I hope that I have a chance to continue working on it and keep advancing forward in what I do," he said.
In November 2011, Nagaty attended the Unmanned Systems Canada Conference in Halifax, where he got the opportunity to meet with professionals and researchers in the field of unmanned systems.
"The whole experience of attending a conference was new to me," Nagaty said. "I had a great time and learned a lot from it."
Article by Alanah Duffy