Carl Thibault
PHd Candidate
Email: Carl.T at unb dot ca
Research Interests:
Unmanned vehicles, advanced control systems, artificial intelligence and multi agent systems.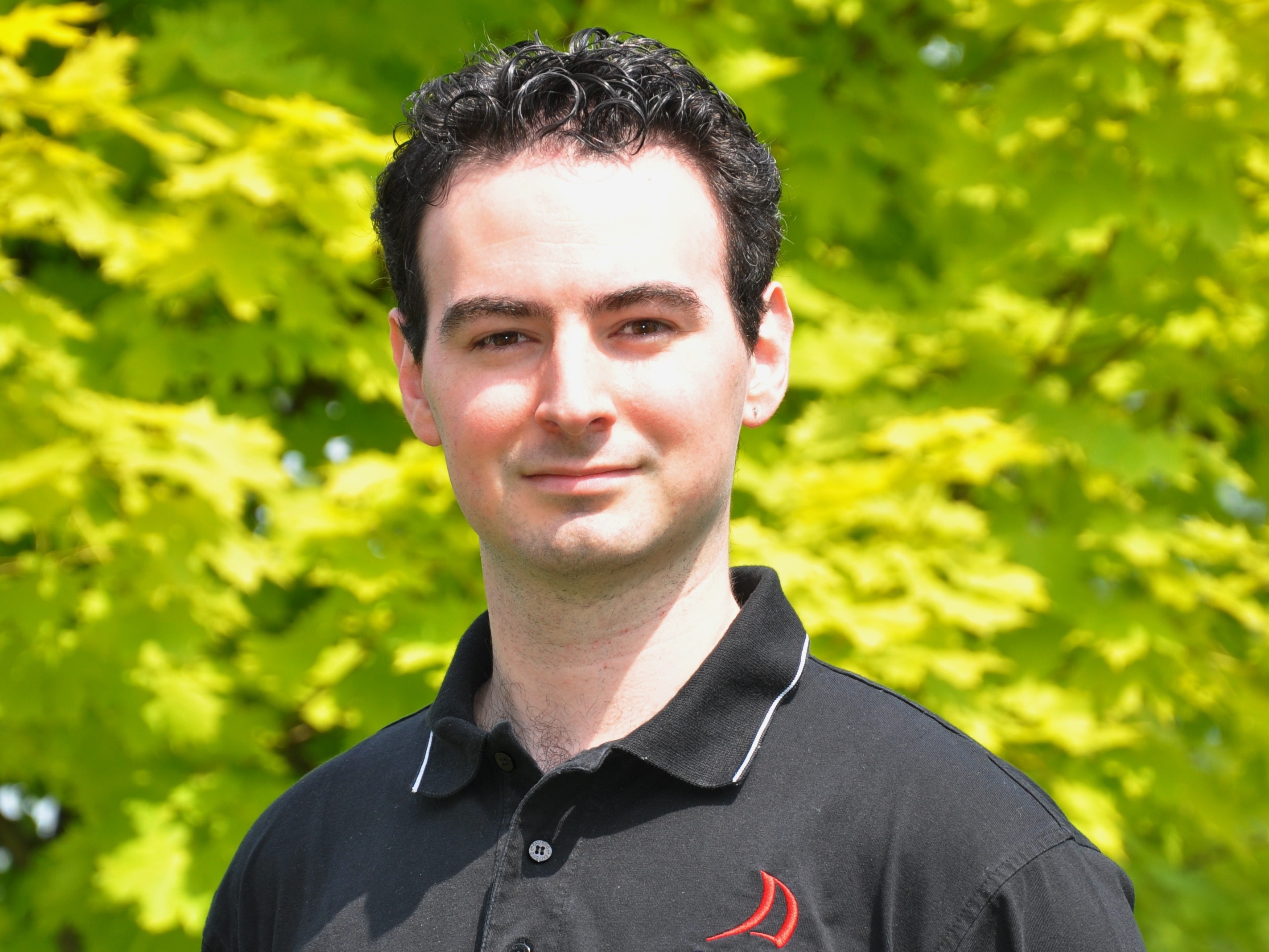 Carl Thibault was only four years old when he became interested in robotics.
"My parents brought me to a full-sized air show in Ontario," said the PhD candidate. "I kind of got stuck with airplanes. I liked the models because they were my size at the time."
As Carl has grown up, so has his passion for aircraft. These days, he's a member of COBRA (COllaboration Based Robotics and Automation) at the University of New Brunswick.
The group has been diligently working on the design, construction, and implementation of multiple unmanned vehicle systems.
COBRA is led by Dr. Howard Li, an assistant professor in the department of electrical and computer engineering at UNB.
"I met Howard taking controls on the electrical engineering side of things," Carl explained. "One day, he asked if anyone knew how to fly helicopters and I did. It's an area of research that I was very interested in and have the skills for – I have been flying model airplanes since I was twelve.
"Flying was a skill that I wanted to develop and, at that time, Howard was looking for someone to start the project with because he had nothing here."
That was in 2009. Now, COBRA has expanded into a group of six graduate students who are making huge advances in the area of unmanned vehicle research.
Carl has been researching unmanned air vehicles as part of his work with COBRA. So far, the vehicles are remotely controlled, but Carl hopes that his work will one day lead to these vehicles being completely autonomous.
"Right now, we hear a lot about robots and drones that are being used in Afghanistan and different places around the world. However, they're all essentially remotely piloted, so someone is sitting behind a computer screen, flying it like a video game," he explained.
"Our work is trying to take that to the next level in the sense that, rather than having to fly the vehicle, the people can just focus on controlling the camera, as the aircraft will be able to do more and more by itself."
Carl has been working with two aircrafts: a multi-rotor aircraft and a model plane. The plan has the ability to follow waypoints, take off and execute a landing approach autonomously, though Carl helps it land via a remote. The multi-rotor aircraft is completely remote operated.
"The controls are the same as if you were inside the aircraft, but instead you are standing on the ground," Carl said.
The multi-rotor aircraft has the ability to take pictures through a camera from its various vantage points. Photos from a recent test run of the aircraft can be found here [insert link to photos].
Vehicles like the multi-rotor aircraft will be helpful in all sorts of applications once they are fully developed.
"Forest protection monitoring is a great example," Carl said. "As soon as there's a forest fire, no plan is allowed to fly in that area. However, we do still need data for the ground crews to effectively fight the fire."
Although his work with COBRA is different than his childhood aspirations (he wanted to be a pilot), Carl is quite content to be where he is now.
"This project has quite a lot of real world applications and I think that unmanned systems are going to become quite common in the future," he said. "We'll be able to say that our research was some of the first in the field."
Article by Ananah Duffy
An introduction to my preliminary work with UAV systems from 2011
Current Projects
- Design and construction of multi rotor flying platforms for 3d SLAM
- Design and construction of a mechanical 3 DOF hardware simulator
- UVS competition hosted by Unmanned Systems Canada to operate in support of forest fire fighting personnel
- Installing Ubuntu and ROS on the Gumstix Overo micro computer
Past Projects
- Design, construction and User interface programming for an 2 DOF Laser interferometer system for use in wind tunnels now in use at forest protection limited
- Instrumentation of a model scale conventional helicopter
Educational Background
I received my B.S degree in mechanical engineering with mechatronics from the University of New Brunswick in 2009. I began an MSc degree in electrical engineering the same year with the Collaboration Based Robotics and Automation (COBRA) Group where I am currently work under the supervision of Dr. Howard Li. program.
Teaching Experience
- As a graduate student I have been a lab and teaching assistant for introduction to Systems and controls, introduction to Mechatronics, and mechatronics applications. The position included grading reports, assignment and tests along with managing the lab and delivering class occasional lecture
- As and undergraduate student I was a teacher's assistant for introduction to computer added design and introduction to mechatronics for which I was voted teaching assistant of the year. These positions required grading oral presentations and assisting students in the lab environment
- Previously I spent 6 years teaching water safety and first aid at the Canadian Forces Base Gagetown
Project
Photographs

: